We're excited to bring you some fantastic news that will add some frothy fun to your autumn semester. The HerbstBeerience Beer Festival is back, and it's better than ever! If you appreciate craft beer and want to experience the best that Switzerland has to offer, mark your calendars for November 3rd, from 16:00 to 24:00.
🍻 Event Details 🍻
Date: November 3rd, 2023
Time: 16:00 – 24:00
Location: CAB F 21 (ETH Zentrum)
Price: 7 CHF (5 CHF for the branded glass you can keep afterwards, 2 CHF for entry)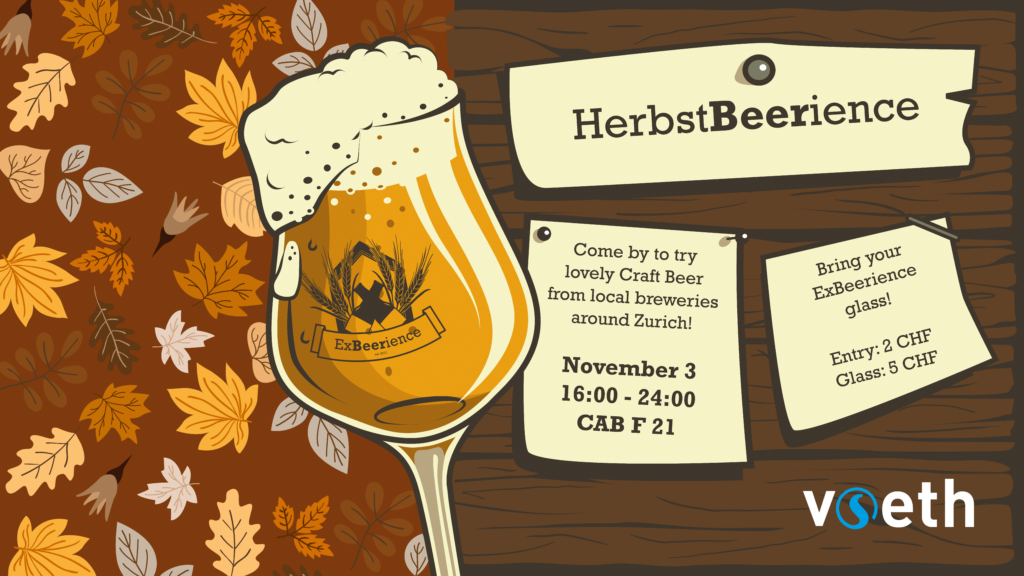 Why should you attend?
Amazing beer: Get ready to explore a wide variety of craft beers from local breweries all around Switzerland. This is your chance to taste unique flavors, seasonal brews, and handcrafted creations that you won't find in your average store.
Atmosphere and entertainment: Enjoy delicious Hot Dogs, a cozy autumnal playlist, and a vibrant atmosphere perfect for mingling, making new friends, or just relaxing with a beer in hand.
Learn from the Brewmasters: Some of the brewers themselves will be at the festival, so you can chat with them, learn about the brewing process, and gain a deeper appreciation for the art of craft beer.
Support Local: By attending HerbstBeerience, you're supporting local businesses and helping to promote the craft beer scene in Switzerland.
No registration needed: There's no need to sign up in advance. The event is open to anyone who loves good beer, so feel free to bring your friends, classmates, or anyone else who enjoys a crisp, cold brew.
Don't miss out on this fantastic opportunity to enjoy the best of Switzerland's craft beer scene. Whether you're a beer connoisseur or just someone who enjoys a good brew, there's something for everyone at HerbstBeerience.
So, grab your friends and head over to the festival on November 3rd! See you there!
PS: Bring your own ExBeerience glass if you have one, so you don't have to pay the 5 CHF for a new glass